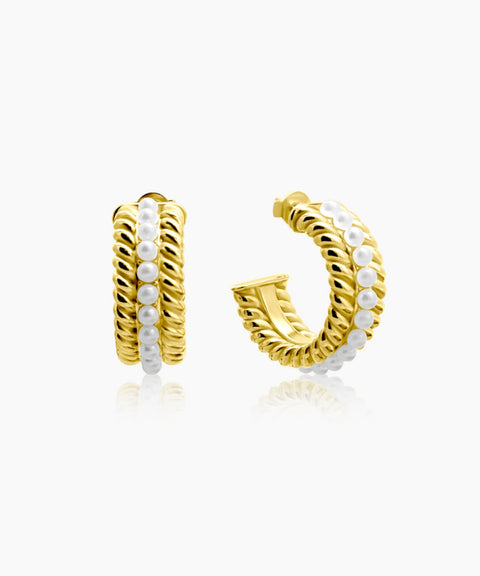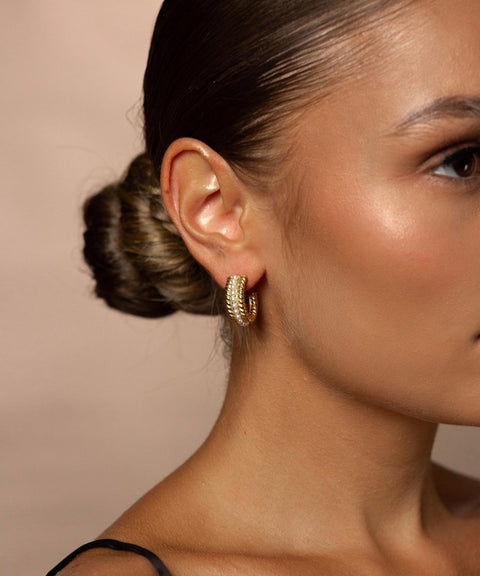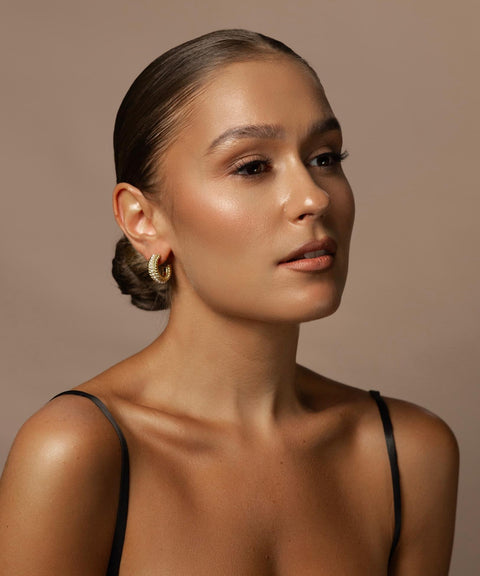 Pearl Glamour Earrings
$89.00 $44.50
Use Code: HOLIDAYSALE
KEY FEATURES
Introducing the "Pearl Glamour Earrings" – a captivating blend of opulence and timeless elegance. Plated with 18k gold, these exquisite earrings boast a semi-hoop design adorned with luminous pearls, creating a harmonious fusion of luxury and sophistication. Crafted with refined charm, the semi-hoop silhouette frames the face, and the lustrous pearls delicately sway, reflecting light for a natural beauty enhancement.

Each pearl symbolizes grace and purity, complemented by the rich gleam of 18k gold plating. Whether for special events or everyday elegance, these earrings epitomize versatile glamour, celebrating both elegance and self-assuredness. Embrace opulent simplicity with the "Pearl Glamour Earrings," an extension of your sophisticated style and a reminder that every moment is an opportunity to adorn yourself with grace and glamour.
MATERIALS
Metal: Stainless Steel
Coating: 18K Gold PVD
Other: Simulated Pearls
MEASUREMENTS:
Length: 2cm/.78"
Width: 1cm/.39"
IS YOUR SKIN SENSITIVE?
All The Glam Kit's jewelry embraces sensitivity with style. Designed especially for those with delicate and sensitive skin, our collection boasts a commitment to comfort and care. All jewelry is nickel-free and lead-free, ensuring a worry-free adornment for even the most sensitive skin types. Our founder, driven by a personal struggle with skin allergies, embarked on a mission to create exquisite hypoallergenic jewelry that doesn't compromise on quality or affordability. 
ONE YEAR WARRANTY
We're so confident that you'll love the quality of our jewelry, we have INCLUDED an extremely generous 1-year warranty on ALL of our jewelry so you can buy with 100% confidence! This quality promise covers items that are defective/tarnished/damaged items.  Refer to our FAQ to submit a warranty, as needed!
FREE SHIPPING WORLDWIDE
We're dedicated to delivering your glam in record-time. All orders will be shipped out the next business day.
The Glam Kit offers FREE SHIPPING to be unlocked on all orders around the world. Final shipping costs depend on the item(s) you've ordered and the country where it's being delivered.
Limited Time Only: For U.S. Orders, FREE SHIPPING on all orders.
For Canada orders, FREE SHIPPING unlocks on orders $100 USD & over.
For qualifying International Orders, FREE SHIPPING unlocks on orders $150 USD & over.
FAST FUFILLMENT
We're dedicated to delivering your glam in record-time. All orders will be shipped out the next business day.
EASY RETURNS
Trying our Earrings is 100% risk-free! You can effortlessly return your order within 30 days without any hassle, no questions asked. Just refer to the FAQ for additional details.
What materials do you use in your jewelry?
Each piece of jewelry is meticulously fashioned from top-grade stainless steel, ensuring durability and longevity. To further elevate their allure, we employ an advanced plating process known as PVD (Physical Vapor Deposition) to coat them with 18k gold. This technique enhances the brilliance and resilience of our jewelry, making them stand out from the rest.
How is the jewelry waterproof?
Unlike conventional gold or silver plating, our PVD plating boasts a remarkable tenfold increase in strength. This characteristic grants our jewelry an exceptional advantage, making them invulnerable to water, ensuring that they remain pristine and stunning through all your adventures.
Are your jewelry hypoallergenic?
Absolutely! Our jewelry is specially designed to be hypoallergenic, lead-free, and nickel-free, making them perfect for individuals with sensitive skin. You can shop with complete confidence knowing that our pieces prioritize both your comfort and style.
Do your jewelry contain nickel?
All our jewelry items are entirely nickel-free and have been carefully crafted to be safe and suitable for individuals with nickel allergies. You can rest assured that our products prioritize your well-being and are designed to be worry-free for those with sensitive skin.
Will the jewelry discolor or cause green marks on the skin?
Rest assured, our jewelry is fortified with PVD (Physical Vapor Deposition) coating, ensuring a lasting and vibrant appearance. With this advanced technique, you can bid farewell to any worries about discoloration or green marks on your skin. Our commitment to quality ensures that your jewelry retains its lustrous charm, allowing you to enjoy it with confidence and grace.
To clean your jewelry, it is essential to handle the pieces with care to preserve their brilliance and durability. Here's a step-by-step guide to help you maintain the beauty of your jewelry:
Gentle Cleaning: Use a soft, lint-free cloth to gently wipe off any surface dirt or fingerprints from the jewelry. Avoid using abrasive materials or harsh chemicals as they may damage the PVD coating.
Mild Soap Solution: For more thorough cleaning, prepare a mild soap solution using warm water and a small amount of gentle dish soap. Soak the jewelry in the solution for a few minutes, and then use a soft brush or toothbrush to delicately scrub away any stubborn residues.
Rinse and Pat Dry: Rinse the jewelry under lukewarm water to remove any soap residues, and then pat it dry with a clean, soft cloth. Avoid rubbing vigorously as it may scratch or wear off the PVD coating.
Storage: Store your jewelry in the pouch it came with to prevent scratching or tangling with other pieces. Avoid exposing the jewelry to harsh conditions or extreme temperatures.
Find Your Perfect Jewelry Pieces
Still can't decide on what jewelry set you're obsessed with? Take our jewelry quiz to find your perfect jewelry pieces