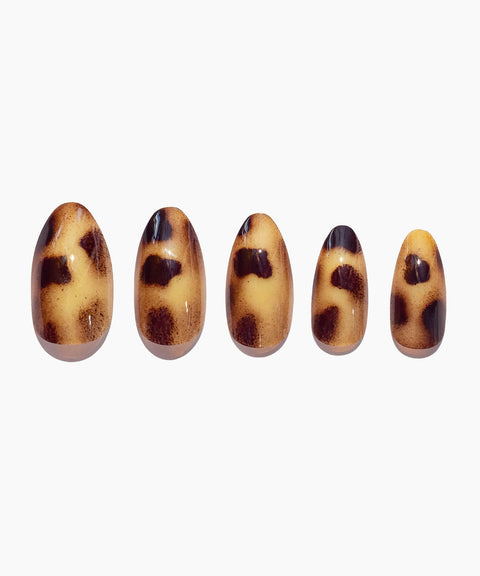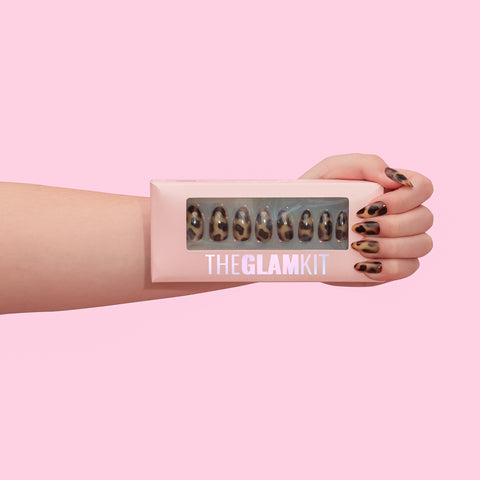 Fierce
$20.00
KEY FEATURES
Meet "Fierce," a captivating blend of tortoise-colored medium almond-shaped nails radiating power. Reflecting nature's timeless allure, the rich tones and intricate patterns add exotic elegance to your fingertips. Crafted for comfort, "Fierce" nails confidently complete your daily activities, making a bold statement with their tortoise-colored finish. Whether for a business meeting, a night out, or to unleash your inner fierceness, these nails express bold self-expression in style. Embrace the captivating allure of "Fierce" and let your hands radiate strength and allure.
WHAT'S INCLUDED
24 Press-On Nails (Fits all nail beds)
Nail Adhesive Sticker Tabs
Non-Damaging
Nail Glue
Mini Nail File
Alcohol Prep Pad
Cuticle Stick
FREE SHIPPING WORLDWIDE
We're dedicated to delivering your glam in record-time. All orders will be shipped out the next business day.
The Glam Kit offers FREE SHIPPING to be unlocked on all orders around the world. Final shipping costs depend on the item(s) you've ordered and the country where it's being delivered.
Limited Time Only: For U.S. Orders, FREE SHIPPING on all orders.
For Canada orders, FREE SHIPPING unlocks on orders $100 USD & over.
For qualifying International Orders, FREE SHIPPING unlocks on orders $150 USD & over.
EASY RETURNS
Trying our Press-On Nails is 100% risk-free! You can effortlessly return your order within 30 days without any hassle, no questions asked. Just refer to the FAQ for additional details.
They are instant manicures that can be applied under 5 minutes at the comfort of your own home.  You'll get the salon look at a fraction of the cost, and the best part is that our nails are vegan, cruelty-free, and re-usable!  However, not all press on nails are made the same.  You may have experienced cheaper press on nails from the local drugstore or from other brands, and unfortunately those are often flimsy and cheap.  Our press on nails are the highest quality, and on top of that, we carry top-trending designs that you would usually pay a lot more just to get them in a salon! 
How long does the instant manicure last?
When applying your press-on nails with our non-damaging glue:
Your manicure will often last up to 2 weeks+.  
When applying your press-on nails with our non-damaging adhesive tab stickers:
Your manicure will last up to 3 days. 
Can I trim/file the press-on nails?
Yes, all our instant manicures are customizable. You can file or cut them to your liking. 
How do I know if the nails fit my nail beds?
They will fit!  The reason is because TGK Luxury Press On Nails come with 24 nails of 12 different sizes. Our instant manicures fit petite, average and large sized nails.
How do I apply the press-on nails?
STEP 1: File down nails with nail file and then push back cuticle with manicure stick.
 
NOTE: Do not use lotion/oils before applying the instant acrylic nails.
STEP 2: Wipe nails with alcohol pad and remove any natural oils.
STEP 3: Match each acrylic nails with your natural nails and set aside.
STEP 4:
Glue Application: Apply a dab of glue onto your natural nail.
Adhesive Sticker Tabs Application: Apply the adhesive tab to your natural nail. Press the tab on your nail smoothly & peel off the top film. 

NOTE: Make sure you pick a adhesive tab size that fits your natural nail.
STEP 5: Position acrylic nail to your natural nail and hold for 30 seconds to secure the acrylic nail.
STEP 6: Repeat the steps until all nails are on fleek.
How do I remove my press-on nails?
STEP 1: Do not pull/force nails off
STEP 2: Soak nails warm soapy water until acrylic nails loosen.
NOTE: When acrylic nails start to loosen gently push the acrylic nail from side walls with manicure stick.
STEP 3: Wipe off glue
If you used adhesive tabs stickers follow these steps:
STEP 1: Do not pull/force nails off.
STEP 2: Soak nails in warm soapy water for 10-15 mins.
STEP 3: Gently push the acrylic nail from side walls with orange stick.
NOTE: acrylic nails are easier to peel off after shower/bath.
STEP 4: Wipe off glue
Total 5 star reviews: 20
Total 4 star reviews: 0
Total 3 star reviews: 0
Total 2 star reviews: 0
Total 1 star reviews: 0
100%
would recommend this product
Giselle G.

Verified Buyer

Easy, beautiful and worth it

First time trying these and I love them. The length is desirable. It was easy to put on and remove. Totally worth it

Amazing never going to salon again

This is an incredible buy. I bought my first pair and already bought 5 more. I will never drop $50 at the salon again.

High quality nails

These nails are beautiful & strong. They don't feel like drugstore press on nails. They feel super secure on - I've had them on for 10 days now and don't see them popping off. If you want to save money and still have quality beautiful nails get them!

perfect

love this set! every one kept asking where I got them done - overall lasted two weeks

Sturdy and thick

These nails are sturdy and thick not like the ones you get at target. The glue is crazy strong which is a + for me so I know my nails ain't going anywhere. This set is beautiful and looks amazing!
Reviews Loaded
Reviews Added